Enhancing Hintock – A touch of creative thought, some imagination and a little effort combined to enhance the charm and operational realism of Hintock. This post also illustrates what I think is simultaneously an unforeseen opportunity and blessing of the modeling process: You can't just change one thing on a fully developed model railway, and if you follow where the modeller's sense leads, the changes, though small, can yield significant improvements.
Our improvements began by first moving the Water Tower from the entry to Sheepcroft Yard to the loop in the place previously occupied by the Signal Box. That is the more logical location as engines can take water as they run around their trains. In turn this required shifting the signal box to the other side of the loop which is also more logical and prototypical.
Ayling and Strudwick's Mill now needs to be relocated, which gave me the opportunity of re-building the mill and improving its presentation through altering its orientation. This was easy enough to do as the building sits on its own sub-board secured by a bolt. It now functions as Carr's Mill, the Hintock manufacturers of Carr's Corduroy Trousers-these well known throughout the southwest not only by their function, but the catchy slogan and the timely reminder – 'don't go to work without them.'
The Mill now fits into the overall scene much better, giving me an uninterrupted view of trains entering and leaving Hintock for the full 15'0 of the scenic portion.
Once I made these improvement, I realized that I was becoming more and more disenchanted by the severe reverse curve in the existing platform face. Thinking hard it came to me, eventually, that if I added a triangular piece to widen the left-hand of the layout by 12" I could lead the curve away, ease its radius and lengthen the platform.
The added bonus was the head shunt became longer and I could add another goods siding to the yard. Scenically too it allowed the Port Bredy branch to seemingly disappear through a rather fine stone bridge. A mirror set behind the bridge adds to this illusion.
All these improvements are illustrated in the accompanying photographs.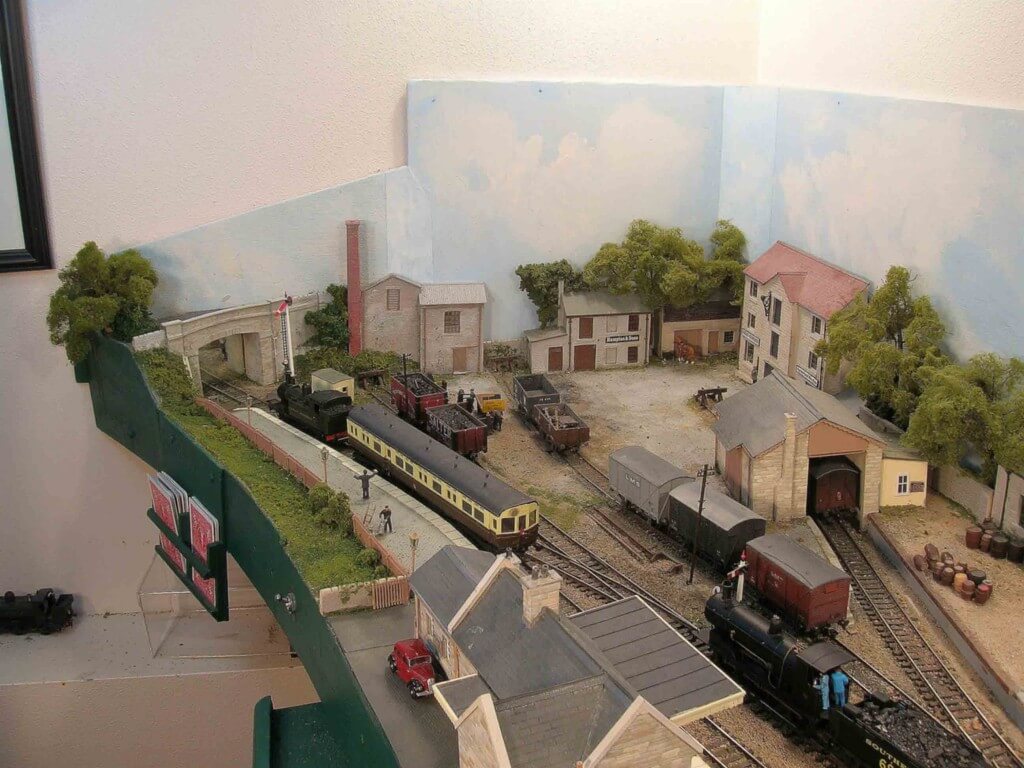 As to the continuance of the Port Bredy branch the modeled portion has now reached Hintock Town Quay. And that will be subject of a further Chapter to the Hintock story posted on the main site that I will link to here when done.