Model railway traffic flow on the Hintock Branch makes the layout interesting and provides the scope for its operation; without it there would be no sense of purpose in the running of trains. This section describes it in some detail. Again as much as anything it requires some careful thought and use of the imagination.
Situated where it is, Hintock acts as the focal point for the inward and outward passenger and goods traffic to the Vale. It is busy because the railways were a common carrier and it was the primary mover in the 1930's. (That is before the motor lorry and private car supplanted it.)  Passengers used it to get to and from the county town, Dorchester, to Weymouth, Yeovil or further afield. Holiday makers too came from afar to enjoy the delights of the GWR's famed Pennsylvania Castle Hotel at Port Bredy and Dorset's Jurassic Coast.
The Hintock Farmer's Trading Society Warehouse is a source of much inward traffic and makes also a nice scenic feature. Behind is the staging yard, needed to get to processors or market, and in came fertilizer, provender, seeds and machinery, as did coal for industrial, commercial and domestic fires, along with all else needed by a thriving and prosperous community. The farmers depend upon the railway, as do local concerns, such as the Crown Prince Brewery and Hintock Dairies and many others no less so.
A study of the track plan illustrates the number and variety of traders who find it advantageous to occupy premises adjacent to the railway to better their businesses.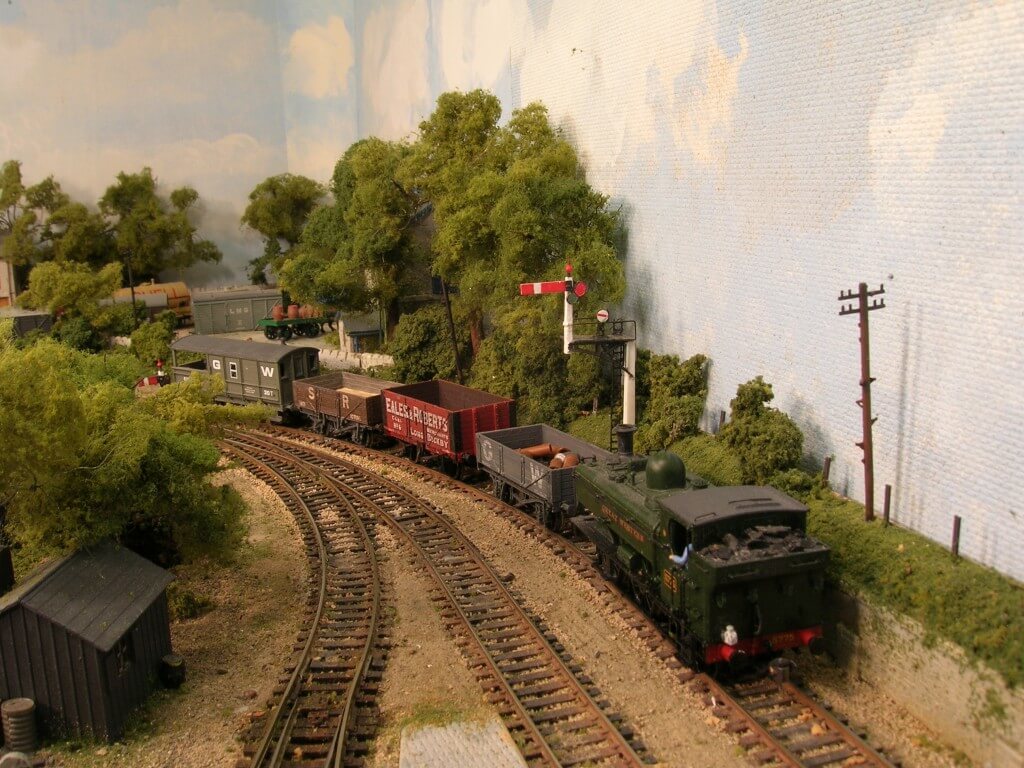 To meet the demand there are passenger trains to and from Weymouth, Dorchester and Yeovil via the Junction, and GWR through coaches for holiday makers from the North West, Midlands and London. The goods traffic is equally busy with the GWR and SR having daily trains, the GWR mornings working Dorchester-Hintock-Yeovil the SR afternoons in the reverse direction.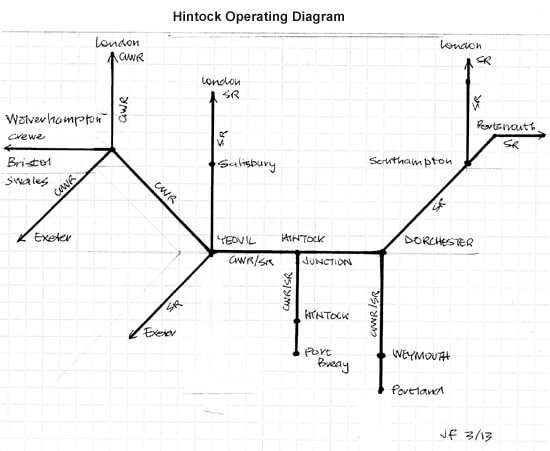 This Traffic Flow diagram illustrates how passengers and goods can take advantage of the Branch's direct connections to the GWR, and at Dorchester the SR systems, and from those to both the LMSR and LNER.