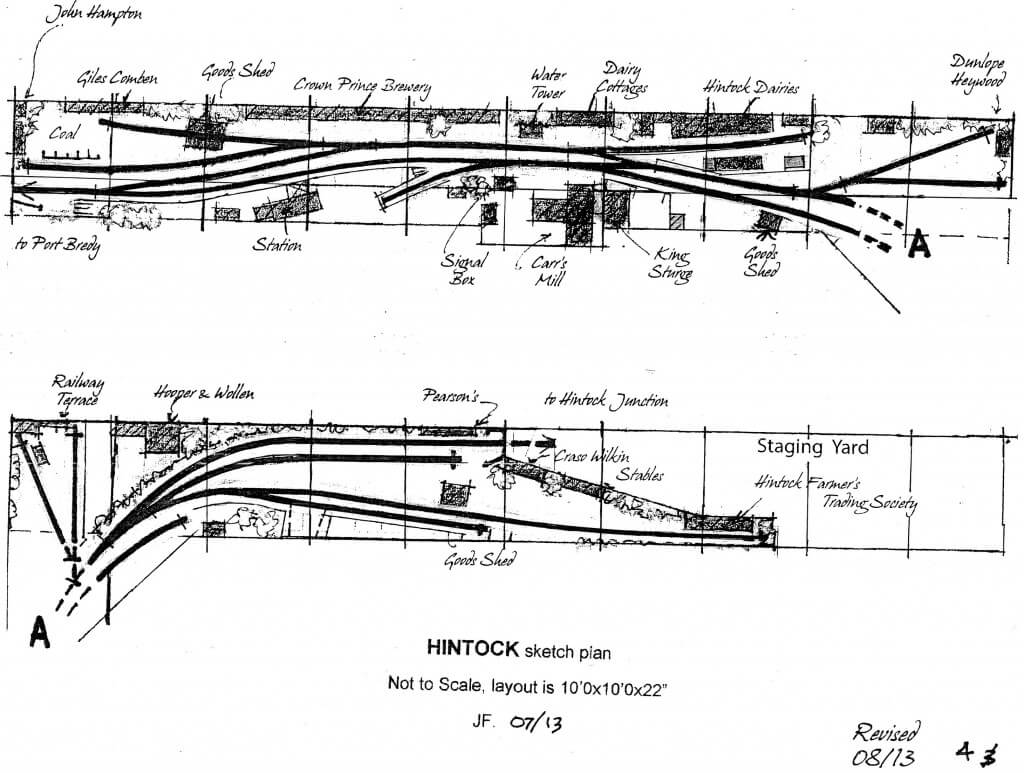 The Hintock track plan is simple and prototypical and developed so as to be attractively scenic and practical. It achieves this by way of gentle approach curves, appropriate buildings and scenery. Altogether it gives an illusion of space and generates, I think, a certain atmosphere that is so difficult to capture. Of note are the number of businesses with rail served premises each of which generates traffic. Other businesses also use the railway, and these are served by the common sidings, and by using  their own carters or by the railway's cartage services. The railway horses have their own stable.
The layout was built in three phases. First, the station area, which incorporated part of Melbury[1. A layout that I brought out from the UK built in the 1980's, described in articles in SMT, 10/11/88. 01/89.] with a small fiddle yard approached by an 18″ radius curve, (RM 5/2011, BRM 12/2011, MRP 2011). Second, easing of the curve to a 22″ radius, adding Sheepcroft Yard, and improving the fiddle yard (RM 11/2012). Third, adding enhancements, and an enlarged Staging Yard. (RM 9/2013) The hand painted back scene has coved corners and was installed prior to any track being laid or scenery in place. Adding one later is harder to do.
To improve presentation the layout fascia is painted a GWR Brunswick green. The effect is to pull the whole layout together. Below it I added a useful shelf. The track is Code 100 and the points by Peco. I use DC and a MRC Tech4 200 transformer along with a Gaugemaster hand held controller. This adds much to the pleasures of operating. Lighting is from florescent spot lights and tubes. Good bright lighting is essential.